Vaccinations in Vietnam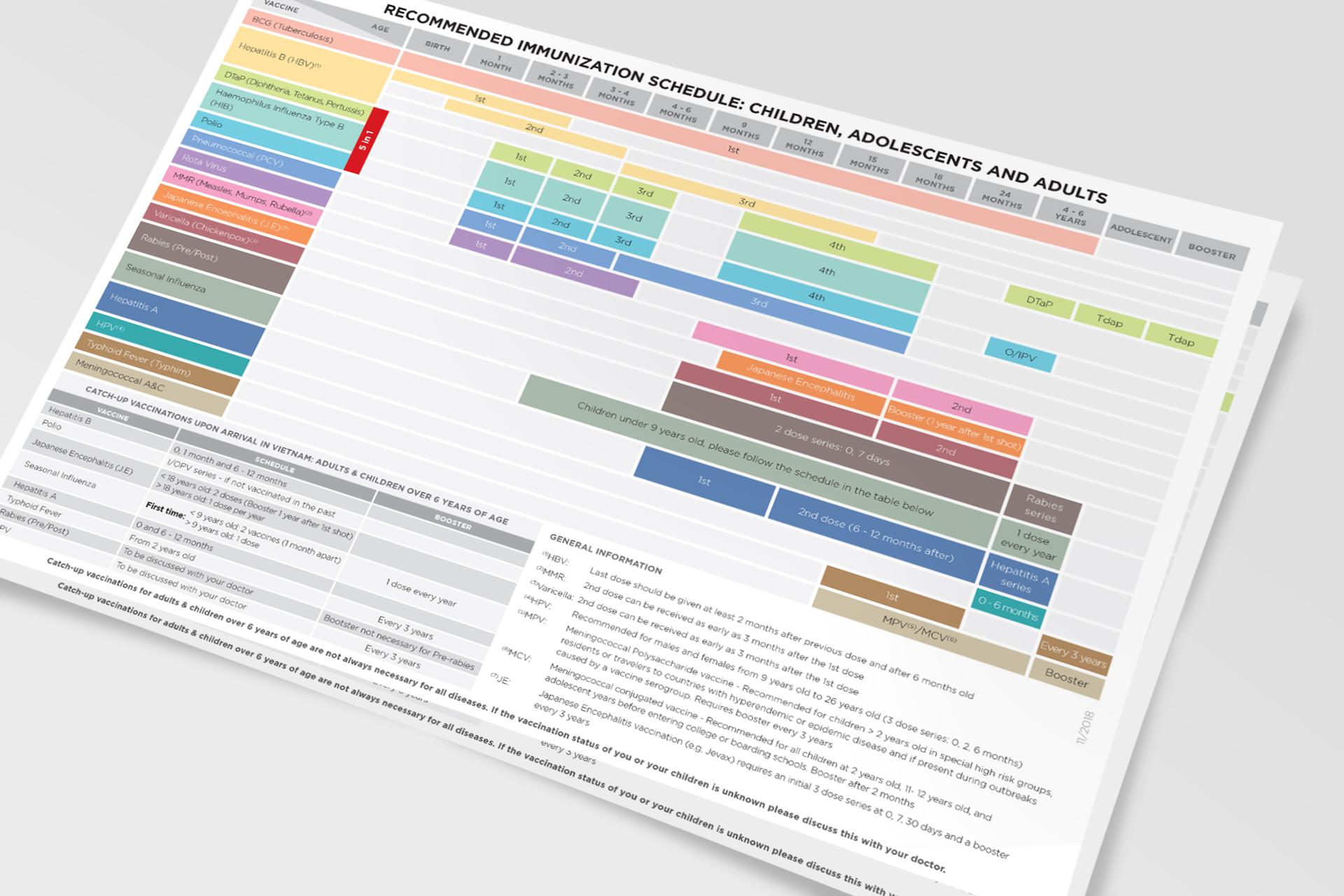 Vaccinations are a huge portion of travelling in general. Everyone has had to have them in order to gain peace of mind before embarking to their destination. The ideal time for this is four to six weeks prior to your date of departure. However, even as late as two weeks before, it is still useful to see a travel medicine doctor. Everyone should be thoughtful enough to have routine immunisations prior to visiting Vietnam, although different countries may have slightly different recommendations.
Each country has their own system and expectations depending on the various transmittable diseases and illnesses that occur in their respective zone of the world, and the country to which you are travelling. We all understand the drill previous to taking a holiday somewhere tropical, but living in a foreign country is a bit different, especially when starting a family.
New Country, Different Schedule
In Vietnam, vaccinations for children and adults alike are a different animal compared to what you may have dealt with in your home country. Dr Jonathan Halevy is a physician at Family Medical Practice and specialises in vaccinations. He is often required to explain this difference to new families arriving from other nations.
"Sometimes expat parents still don't internalise that they live in Vietnam and not their home country," he says, "and [so] they insist on 'sticking' to their original country's vaccination schedule. I always assure them that our vaccination programme covers all their home nation's requirements, but since they are now living in Vietnam and are exposed to different pathogens, it is very important that they protect their children against these local infections, like Japanese encephalitis, for example."
In Development
Obviously the situation in Vietnam for obtaining vaccines is different as well. It's no secret that many people make the jump out to Bangkok or back to their home country for the necessary vaccines needed for their children. Reason being, the infrastructure and cold-chain transportation needed to keep temperature-sensitive medicines stable is still developing within Vietnam.
Dr Halevy recommends only using vaccinations from a trusted source. "For example, [Family Medical Practice] only uses vaccinations that are approved and used in countries such as the USA, Canada and Australia. We don't use locally made vaccines, or Quinvaxem, since there were quite a few reports of severe side effects and even deaths related to those vaccines. Basically, you can find most of the vaccinations in most clinics and hospitals in Vietnam, although the manufacturers and schedules may be different."
Current Recommended Vaccines for Vietnam
Everyone should be up to date with their routine vaccines, but there are specific ones that are recommended for most travellers just to be safe. If you are someone planning on staying in Vietnam for some time, it would be best to follow this guideline as closely as possible, just to be safe.
Hepatitis A and Typhoid are both illnesses contracted through contaminated water, and are both recommended for everyone prior to travel. Safe water is easier than ever to obtain in Vietnam, but sometimes fruits and vegetables can be washed in contaminated water, so it's best to be cautious and remain aware of what you're eating and drinking at all times.
The Japanese encephalitis immunisation may be needed if you plan on spending time in rural areas of Vietnam, or plan on staying more than a month – just to be on the safe side.
With Hepatitis B, the Center for Disease Control (CDC) recommends the vaccine if you might have sex with a new partner, get a tattoo or piercing, or have any medical procedures.
Malaria is spread via mosquito bites. If you are planning on doing any camping, or spending extended time outdoors, taking malaria preventative medication is a wise move. Usually one has to take medicine before, during, and after their trip to ensure that malaria is kept at bay, and some people report the medication being more of a hassle than the stress of potentially getting malaria. According to the CDC, malaria is only found in remote rural regions in Vietnam, and is a relatively low risk to travellers. Check with your doctor to weigh what the best option for you may be.
Rabies is found in bats, dogs, and other mammals so anyone that will be moving to Vietnam, handling animals, or generally just being exposed to potential contact with animals outdoors should definitely prioritise a rabies vaccination.
Finally, yellow fever is not technically a risk to anyone exploring Vietnam, but the Vietnamese government does demand proof of vaccination from anyone entering the country from a nation that poses a risk of yellow fever infection, which include parts of Central and South America, and Africa.
Kids and Vaccinations
All children need immunisation schedules and certifications to be able to enter into school programmes. Infants and children are the most susceptible to diseases that are usually prevented by proper vaccinations. The schedule recommended by the most reputable medical organisations in Vietnam, and most everywhere, is the one recommended by the CDC, the American Academy of Pediatrics (AAP), and the Canadian Pediatric Society. It's hands down the most evidence-based and up to date immunisation schedule in use today.
The amount of information out there concerning proper vaccination schedules for your children can be mind boggling, and it is certainly difficult to keep everything squared away when entering into the chaos of a new living arrangement, a new job, and new family dynamics, all while keeping your little ones safe from illnesses with names longer than one can adequately pronounce. Luckily there's a plethora of resources online, and fantastic medical professionals in Ho Chi Minh City eager to help clear the air for any expecting parent or newcomer to Vietnam.
Always consult your doctor in regards to any and all child care treatment, or immunisation scheduling. This article is not to be taken as professional medical advice
The Center for Disease Control
cdc.gov/vaccines
Dr. Jonathan Halevy, Head of Pediatrics, Family Medical Practice Ho Chi Minh City