Welcome To HCMC Family Medical Practice's (FMP's) Clinic No. 2 ("Care1")
Care1 EXECUTIVE HEALTH CARE CENTER
Your Health, Our Care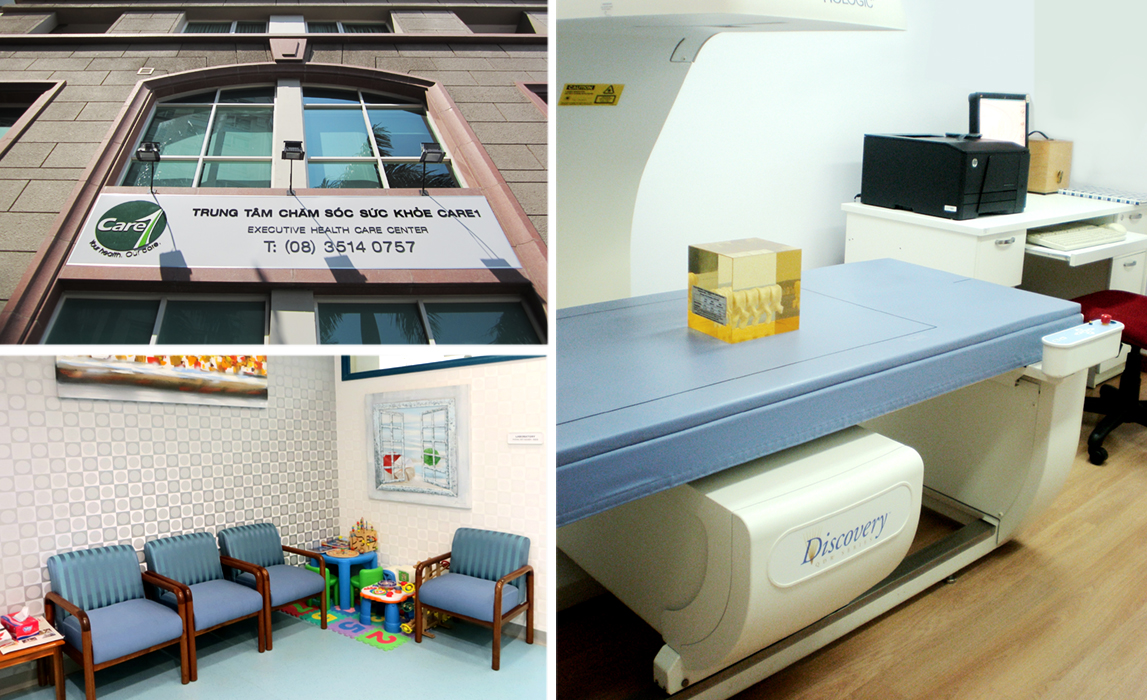 For the past decade, HCMC Family Medical Practice (FMP) has been delivering corporate services that are trusted and used by more than 300 of Vietnam's larger national and multinational companies from different areas and industries (such as oil & gas, education, FMCG, manufacturing, legal and management) as well as embassies and consulates.
Our comprehensive services range from corporate medical check-ups and certified health reports for employees to instructional health talks for the benefit and well-being of management and staff.
We arrange monthly billing agreements directly with our corporate clients to make things easier for employees and family members, allowing them to enjoy the convenience of a "cashless" experience when visiting our health check center. The arrangement can be tailor-made depending on the coverage and types of services employees are provided as an entitlement.
A single monthly invoice also provides companies with a cost-effective and easily administered process for paying employee health benefits.
Care1, a dedicated medical check-up center in HCMC, has offered on-site screening and check-ups since 2007. Services include complete evaluation and consultancy of your medical issues and what the next treatment options should be. This may include additional tests, advising on lifestyle choices and referring to other specialists when required.
Preventive health care screening can save your life. Most people only visit the doctor when they feel that something is wrong, resulting in the symptoms of some life-threatening conditions—such as cancer or strokes—being missed or discovered too late to receive treatment. Our modern technology allows us to provide fast and accurate diagnoses.
We offer a one stop service—modern, comprehensive health care services all in one place. The entire process takes around two hours—a short time in which to obtain peace of mind. Preventive medical check-ups can identify potential diseases (e.g. hypertension and diabetes mellitus) before they become life-threatening.
The Benefits of Regular Check-ups
Early diagnosis = Early treatments
Preventive medicine can find and treat disease early before it becomes a problem. It's important to visit and/or undergo health check-ups on a regular basis in order to stay healthy and catch any disease early. Early detection gives you the best chance for getting the right treatment quickly, avoiding any complications. It's an important step toward a healthier and longer life.
Investment
Spending a little today can help you save money in the future. Major medical expenses could exceed maximum insurance coverage. Weigh in the cost of regular health check-ups against an enormous expense later.
Productivity and Efficiency at Work can be Maintained
A healthy employee is a productive employee, taking less sick days. Studies have shown that employees who are healthy are more likely to have increased performance throughout the day. More cooperation and fewer workplace accidents will take place. Employees will be more focused on their job. Morale can go up and create a healthy working place.
Our services include:
Health screening packages for individuals
Health screening for corporates:
Annual health check
Pre-employment health check
Offshore health check
Well-being for females:

Breast cancer screening
Gynecology screening
Peri-menopause screening
Premarital health screening

Sports health screening
Hepatitis screening
Domestic helper health check
School and children check-ups
Immigration/visa health check
Cardiovascular screening
Metabolic risk screening
Cancer screenings, which include breast cancer, liver cancer, cervical cancer, colon & rectal cancer, prostate cancer, gastric cancer
Patients requiring medical follow up will be referred to a specialist at Family Medical Practice in District 1 or District 2.